IQuitos Amazon Lodge Comparison
Iquitos is hub for fabulous array of Amazon lodge options

Here's how to understand the differences - sometimes subtle - within this offering

What to look for in a lodge & comparison of favourites

Two-thirds of Peru's territory is classed as Amazon Rainforest, and of that, over half of it lies within Northern Peru. The city of Iquitos has always been a major gateway to visiting Amazonia, as not only is it the launching point for all of Peru's river cruises, but also has a bewildering range of lodges to choose from.
Now, with regular direct flights to and from Cusco - as well as Lima and Tarapoto - a visit to the Amazon around Iquitos is easier than ever.
But with so many quality Amazon lodges in the area, selecting the one that suits your interests, needs and budget can be tricky. For that reason PeruNorth has created a Lodge Comparison chart to help you decide. It is based on a number of criteria:
Location:
Lodges are typically defined by their location. So, the remoter the lodge, the better the chance of seeing rarer species - such as felines - but the more expensive it is, owing to the additional logistical costs.
Lodges located near national parks, such as Tamshiyacu-Tahuayo - or within large private reserves - have advantages over lodges located in areas without protection, and/or close to urban areas, in that they will have a higher diversity and density of wildlife.
When choosing a lodge, always investigate the location. We have provided a map to assist you with this.

2. Amenities:
Staying in a lodge, surrounded by Amazon jungle, puts visitors in close contact with the natural environment. You feel the presence of the eco-system all around you; and at night, you hear the sounds of the nocturnal rainforest world. An Amazon lodge stay lets you feel part of the natural cycle of sleeping at dusk and rising at dawn.
But, you can choose how 'close-to-nature' an experience you want. There are some lodges where the accommodation is similar to a hotel room, with air-conditioning, 24-hour electricity and hot water, and a housekeeping service.
There may also be a swimming pool where you can cool off after a steamy Amazon excursion.
At the other end of the spectrum, there are more rustic lodges whose rooms are in wooden cabins, with mosquito nets for windows, a bed or beds, ceiling fan and lighting provided by candles or lanterns.
So, it is important to consider which creature comforts you can and cannot live without when choosing a lodge.

3. Guiding:
In an area of enormous biodiversity, such as the Amazon Rainforest, a good naturalist guide, with the knowledge, enthusiasm and language skills to bring the flora and fauna to life, is vital.
While it is not possible to know the relative merits of all the many guides working in the Amazon, there are lodges that are known to invest more in training their staff. These tend to be at the upper end of the price scale.

4. Price:
Obviously budget is important, so we have provided a daily rate for each lodge for comparison purposes. This is based on two people sharing a room during a 4-day lodge stay, which includes transport, meals, excursions and English-speaking guides.

5. ACTIVITIES:
While all Amazon lodge itineraries will include bird-watching, excursions by motorboat, rudimentary fishing, guided hikes through the jungle and visits to riverside villages, there are some lodges that can offer additional options for thrill-seekers and/or keen naturalists. Examples of these include:
Canopy Walkways and Towers, offering the chance to enjoy the spectacular view of the rainforest from above, where roughly ⅓ of the jungle's biodiversity is to be found

Zip-lines fixed between larger trees provide an adrenaline-pumping aerial ride for daredevils.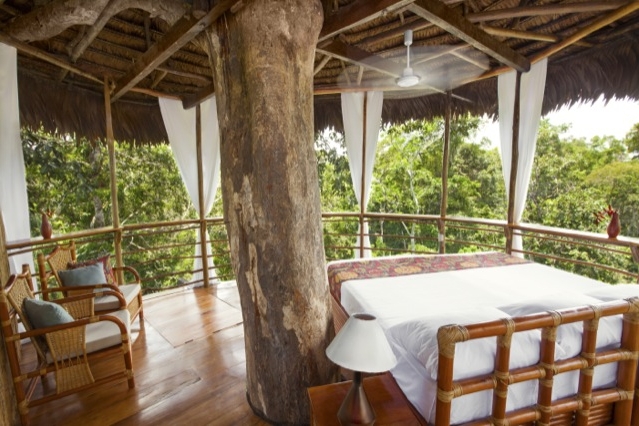 Daily Rate: from
£186 / $237 pp
Distance from Iquitos?
89km (55mi) upstream
✔ Protected Area
✘ A/C
✔ Private Bathrooms
✘ Electricity
✘ WiFi
✘ Swimming pool
✔ Canopy Walkway
✘ Zip-Lining
Daily Rate: from
£173 / $221 pp
Distance from Iquitos?
57km (35mi) upstream
✔ Protected Area
✘ A/C
✔ Private Bathrooms
✔ Electricity (not 24/7)
✔ WiFi (slow)
✘ Swimming pool
✘ Canopy Walkway
✔ Zip-lining
Daily Rate: from
£173 / $221 pp
Distance from Iquitos?
165k (102mi) upstream
✔ Protected Area
✘ A/C
✔ Private Bathrooms
✘ Electricity
✘ WiFi
✘ Swimming pool
✔ Canopy Walkway
✘ Zip-Lining
Daily Rate: from
£165 / $210 pp
Distance from Iquitos?
33 km (21 miles) downstream
✘ Protected Area
✔ A/C
✔ Private Bathrooms
✔ Electricity
✔ WiFi (slow)
✔ Swimming pool
✔ Canopy Walkway
✘ Zip-Lining
Daily Rate: from
£113 / $144 pp
Distance from Iquitos?
60 km (37 miles) upstream
✔ Protected Area
✘ A/C
✔ Private Bathrooms
✔ Electricity (not 24/7)
✘ WiFi
✘ Swimming pool
✔ Canopy Walkway
✘ Zip-Lining
Daily Rate: from
£104 / $137 pp
Distance from Iquitos?
55 km (33 miles) downstream
✘ Protected Area
✘ A/C
✔ Private Bathrooms
✔ Electricity (not 24/7)
✘ WiFi
✔ Swimming pool
✘ Canopy Walkway
✘ Zip-lining
Daily Rate: from
£103 / $132 pp
Distance from Iquitos?
62km (38 mi) upstream
✔ Protected Area
✘ A/C
✔ Private Bathrooms
✔ Electricity
✘ WiFi
✘ Swimming pool
✘ Canopy Walkway
✘ Zip-lining
Daily Rate: from
£69 / $88 pp
Distance from Iquitos?
24k (15mi) downstream
✘ Protected Area
✘ A/C
✔ Private Bathrooms
✔ Electricity (not 24/7)
✘ WiFi
✘ Swimming pool
✔ Canopy Walkway
✘ Zip-Lining
Daily Rate: from
£60 / $80 pp
Distance from Iquitos?
22k (13mi) downstream
✘ Protected Area
✘ A/C
✔ Private Bathrooms
✔ Electricity (not 24/7)
✘ WiFi
✔ Swimming pool
✔ Canopy Walkway
✔ Zip-Lining